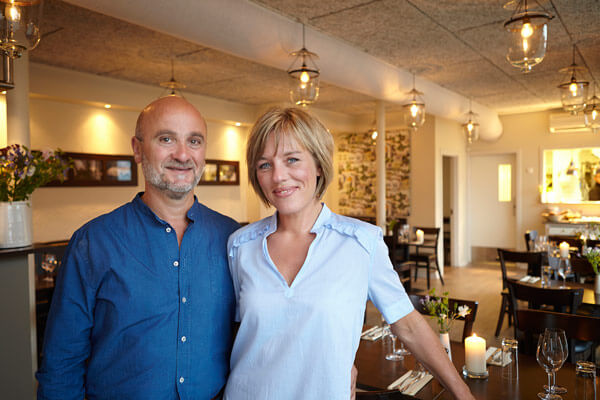 The owners of Ristorante Ravello, are Kirsten and Salvatore De Gregorio. Salvatore is originally from the small town Sorrento near Napoli in the south of Italy, while Kirsten grew up locally in Herning.
Together they have accumulated more than 30 years of experience in the catering business. This with a track record spanning from five star establishments in Oxford and Stratford-upon-Avon to small and large Italian restaurants both in the UK and Italy, where they originally met and were living up until 2007.
It was at this point that they decided to return to Denmark with the intention of realizing their dream; to open their own south Italian country style restaurant inspired by the culinary traditions of the Campania- region that Salvatore grew up in and that the couple, are so passionate about, namely; Fresh colourful vegetables and herbs, garlic, capers, chili, olives, mozzarella, meat, fish, seafood and fresh homemade pasta. The dishes at Ravello are made by chefs who also have roots in these traditions and are equally passionate to pass them on to our guests.
Ristorante Ravello is named after the little charming village that dramatically balances on a cliff with stunning views over the Amalfi Coast. Kirsten and Salvatore have over a number of years repeatedly returned to experience the charm and serenity of the little town, which is also well known for the rich tapestry of musical and cultural events it has to offer. They have let the enthusiasm for the town and its magnificent contrasts between mountains and sea become their inspiration for Ristorante Ravello in the representation of the beauty, the honesty and the originality that defines the south Italian country kitchen.